Sunsky is a lead wholesaler from China, we focus on electronic products specializing in mobile phone & accessories, Digital Camera accessories, Car accessories and LED light and more. Our company headquarter is located in Shenzhen, China.
We supply and deliver more than 30,000 orders per day to customers from more than 200 countries every day, our business is growing, it will help you earn money.
Shenzhen SUNSKY Technology Limited is a leading wholesaler of electronic products specializing in mobile phone accessories, computer peripherals, game accessories, and Home & Outdoor gadgets. Our company headquarter is located in Shenzhen, China. Shenzhen SUNSKY Technology Limited is a wholly-owned subsidiary of Oaken Technology Group Limited, which operates numerous electronics factories.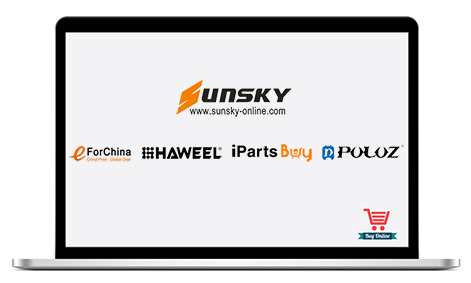 With a vertically integrated, standardized management of supply chain and IT workflow, we supply and delivery thousands of orders to customers from more than 200 countries every day. SUNSKY functions as much more than an online shop, it also integrated with development, purchasing, sale, and after-sales service system, the e-commerce platform we have:
B2B website: www.sunsky-online.com
SUNSKY API: Data exchange between our website and customer's website
App: iOS / Android
Focus on Spare Parts: www.iPartsBuy.com
Focus on Haweel Brand: www.Haweel.com
Focus on Puluz Brand: www.Puluz.com
Professional Team
Behind SUNSKY today's achievements is a great team with the core values of Trust, Respect, Accountability, Integrity and Team spirit, exactly what SUNSKY stands for. We have professional products development team to source and develop good quality products with competitive prices, skilled photographers and art designers to make attractive and high quality product images which can be offered to our customers for free, highly educated sales team to develop customers and provide warm customer service, efficient warehousemen with informationalized system to pack orders in a tidy and safe way, ship them in time.
Working Process
About Exhibition
SUNSKY attends Hong Kong Global Sources Fair twice a year. It is a valuable resource for our development. At the fair, we recommend new design and hot items to everyone, have face to face opportunity to commnicate with clients, and also gain more experience in the electronic market.

PULUZ is specialized in all types of Camera and GoPro accessories, use these accessories you're sure to get the most captivating, action-packed footage with your GoPro. PULUZ has attended the HongKong Global Sources fair 2 times each year since 2014. PULUZ is also available on Amazon, Aliexpress.

HAWEEL is specialized in mobile phone and accessories. With a professional team for designing, manufacturing and marketing .Include smart phone ,MFI Cable ,USB Charger,Power Bank and other kinds of series products .We have a strict QC team to control quality and supply excellent products, sufficient inventory to ensure the same day shipping .

iPartsBuy is one classical and important brand in SUNSKY, Mainly doing smart device spare parts, join the HongKong exhibition with the high quality LCD screens, touch screens and repair tools. With strictly testing before shipping, ensure provide excellent goods and services.
About Us
When customer place an order, our warehouse staffs will print the list of items, pick up items from the shelf to the carton & check carefully. Once all items have been put into carton, the carton will be sent to the packing area. After carefully packed, your order is ready to ship.

Having wonderful travels, delicious dinners, interesting games together is what we do in our weekends and holidays. During these funny activities, we become more and more mature. All of us have a deep understanding of what is teamwork.

Having fun on Shenzhen XiChong beach. The most largest beach in Shenzhen city! It is far away from the city center. Embracing the blue sea and blue sky. Facing the beautiful scenery and relaxing ourselves. Enjoy life, enjoy team work!

Team outdoor activities in Xiangmi Lake Resort. A meaningful experience through the launching of such outdoor activities. It enriches the amateur cultural life, enhances inter-departmental communication & cooperation abilities. In our big family, whatever difficulty we will be face, we are able to hold hands together to overcome, because we firmly believe that unity is strength!

The 10th anniversary celebration of SUNSKY! Decade of ups and downs, SUNSKY has made fruitful achievements. Thank you all for diligent efforts and go hand in hand all the way. In the future, we will continue fighting, creating more glory of next decade.